Web Based TimeSheet Software for Improving Productivity
Get your own copy of Timesheet Script with Source Code.
Tracking Employees Work Hours and Project Hours is very essential for any Business .
Our web based Time Sheet will make this job very easy.
Find below the Key Features/Facts of our Timesheet Software
Simple and Easy to use Time Tracking System.
Web Based Application. We can access this Timesheet application from anywhere in the World.
This Timesheet Software uses php & mySql which are Free and open-source.
Daily Time Sheet Feature with option to toggle between Decimal Mode and Minutes Mode.
User-Friendly Weekly Time Entry Screen.
Employee wise/Project wise/Datewise Time Report.
Defaulter List to make sure that all Users are entering timesheet properly.
Backup Feature for taking database backups easily.
Ability to know the difference between the Estimated Hours and Actual Hours as well as finding difference between Estimated Budget and Actual Budget.
Tracking for Vacation/Leave and any kind of non-projects.
Autocomplete feature to easily select required item in list in the Report module.
This Timesheet Software allows the users to export the TimeSheet Report in both PDF and CSV files.
You can add Unlimited Users to this Time Tracking System. No user-based license. And, no renewal fees.
Source Code of this Timesheet Software will be provided. Have the full control of your Timesheet.
The Script comes with Install Script. And, get our support for setting up the timesheet script in your server.
We will do any kind of custom changes at affordable Houry charges. We have already done lots of custom changes for our customers.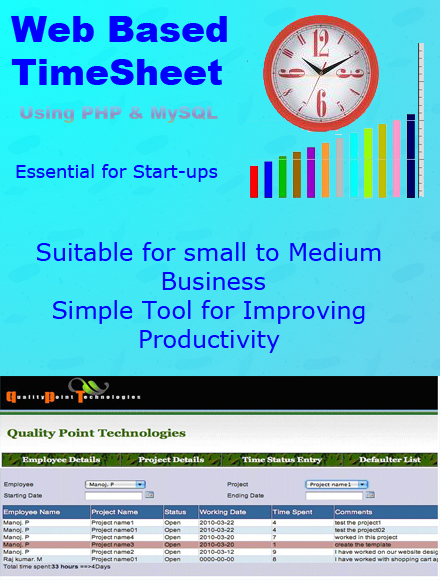 No User based license and No Yearly renewal fee.
$20 only
(Limited Time Offer)
$80
About QualityPoint Technologies
This Time Sheet Software is developed by QualityPoint Technologies, a Leading Software Development Company operating since 2008.
QualityPoint Technologies is developing and successfully running major web portals like TheQuotes.Net and RtoZ.org
Initially, we have developed this Time Sheet Software for our own use, and now a lot of our customers are using this Timesheet Software without any issue. And, we are working on to release additional features for project management and productivity improvement.

Contact rajamanickam.a@gmail.com if you need any more details. And, contact us for doing any website development or software development for you.
FAQ (Frequently Asked Questions)
Can I use credit card for buying this Time Sheet Software?

Yes, You can use your Credit card for buying this Time Sheet Software. And, you can use your paypal account also for making this purchase. All the payment processing will be done by PayPal only. So you can safely make your purchase. Contact rajamanickam.a@gmail.com if you face any difficulty in buying this Timesheet Script.

How to buy this TimeSheet Software?

Just click the BuyNow button and complete the purchase. The download link will appear once after completing the payment. In case, you missed the download link, contact rajamanickam.a@gmail.com to get it. If you need any assistance for setting up the Time Sheet you can contact us.

Who can buy this TimeSheet Software?

Any small to medium company doing any type of Business can buy this Time Sheet Software. It won't add any additional cost as this Time Sheet Software is developed using free and open-source softwares (php & mySql) Even if you don't know what is "php", you can easily use this TimeSheet Software. We will assist you to do setup (changing default logo/company name) without any additional cost.

What is the use of this TimeSheet Software?

This Timesheet Software will help you to improve the productivity by monitoring and analyzing time/effort spent on each of your Projects. And, it can help you to evaluate the performance of your Employees. The core thing is, this TimeSheet is very Simple and Easy to use. No need to do any complex set-ups and need not have any expertise to use it. So, it is practically useful.

Whom to contact if I need any further details?

Contact rajamanickam.a@gmail.com. And, you can see more contact details here.

I want to know more about this product, and I want to see sample or Trail. From where I get these details?

You can see live demo.

How many users can use this timesheet if I make one purchase?

There is no restriction based on number of users. You need not get any additional license for adding new users. So, unlimited number of users can access your timesheet.

I manage multiple companies, should I buy separate timesheet for all?

There is no need to buy multiple copies of this timesheet to manage multiple companies, because we have used a scheme of site admin, admin, employee which will allow you to manage multiple companies at ease without overlapping one over the other.
Site Admin : One who has the overall control of this script. Site admin approves the request made by the admins to create an account/login.
Admin :Can create projects,non-projects,Employees and assign work to employees.Can see the report of the projects undertaken and also see the defaulter list
Employee: Enters the work daily and submits the work weekly. An employee can view the report of the projects he has done.

Will it require any training to use this Time Sheet?

No need to attend any training for using this Time Sheet Software. It is very easy to use.

How to install the TimeSheet Software?

Run the Timesheet installation script by accessing install/install.php in a web browser, just like this http://yourdomain.com/timesheet/install/install.php

I am not satisfied with this TimeSheet. What I can do?

Do complete analysis before buying this Time Sheet. Buy this Time Sheet only if you feel it is useful for you. Since it is developed using php & mysql, you can get lot of developers to enhance it further according to your need.
No User based license and No Yearly renewal fee.
$20 only
(Limited Time Offer)
$80
Customers of QualityPoint Timesheet Software
We have many satisfied Customers for this Timesheet Software. And, we had done lot of custom changes to Customers according to their own requirements so that they can have Timesheet Software to their Convenience.
Find below some of our Timesheet Customers.

Related Blog posts and News